"The rich have become richer, and the poor have become poorer; and the vessel of the State is driven between the Scylla and Charybdis of anarchy and despotism."

― Percy Brysshe Shelley
Dear Reader,
While some of the names that made our top 10 list surprised me, No. 5 did not. My guest was none other than Charles Hugh Smith
We recorded our conversation in the early days of the Delta variant panic… and a lot of what Charles had to say about it is applicable to the Omicron variant.
From there we transitioned to tax rates, which will continue to be a big deal in 2022 — especially with politicians like Elizabeth Warren demanding that billionaires pay their "fair share." Charles says it's all talk.
"The legislature is basically bought and owned, despite its protests," he told me. "And the marketplace has also been corrupted and distorted so that most of the American economy is dominated by monopolies and cartels."
He offered an ominous warning: "When something is rigged against us, then we eventually rebel because that's just not the way we're wired."
But it's not all bad news. "There's definitely opportunities," he said. The only catch is that they require "a bit of unconventionality."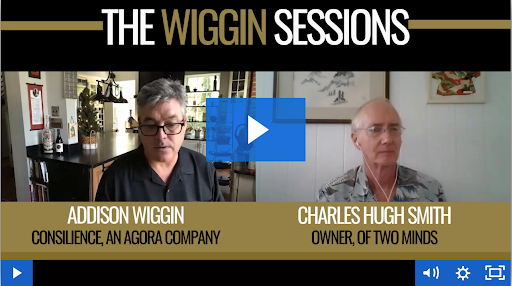 You can catch our full interview with Charles Hugh Smith from Aug. 21, 2021, right here.
To hear his ideas, just click on the picture above.
Tomorrow, we'll reveal the fourth-most downloaded Session of 2021.
Follow your bliss,
Addison Wiggin
Founder, The Financial Reserve