"People are very comfortable with the current investment climate. So until they get worried, they won't feel the need to look at gold."

― John Hathaway, Sprott Gold Equity Fund
Dear Reader,
If you're looking for a last-minute Christmas gift for your loved ones, I suggest you look at the Hard Asset Alliance's Metal Stream account.
I set one up for each of my kids a few months back. The automatic deposits mean they're building a portfolio of physical gold and silver — creating a store of value that will serve them well when they need it most. Or when the sh&t hits the fan.
My chat with Jeff Clark in September made me feel more comfortable about my decision than ever. As the senior analyst for Hard Asset Alliance, Jeff has a better handle on where precious metals are going than just about anyone on the planet.
One of the biggest mysteries we tackle is why gold seems to be standing still despite all the forces in favor of higher prices — low interest rates, rampant inflation, global uncertainty. His answer was quite simple: "The mainstream community is going to remain invested until they're compelled to come back to the gold and silver markets."
At the time, the stock market seemed unstoppable. But the smart money was starting to realize it couldn't last.
"Even hedge fund managers acknowledge that the system, as it is, is unsustainable," Mr. Clark told me. But they had no choice but to continue buying in — "to dance while the music's playing."
Now, however, we've seen the major indexes take some major dips over the past few weeks. If it continues, the hedge fund guys are going to start seeking the safety of gold. Better "have your fire insurance before the fire," Jeff told me.
Once the alarms start chiming on Wall Street, it will be too late.
Another topic we broach is gold vs. Bitcoin. Jeff actually said cryptocurrencies were "valid speculations." His opinion on crypto is worth a listen to also. Bitcoin went on to rise as high as 40% after our talk.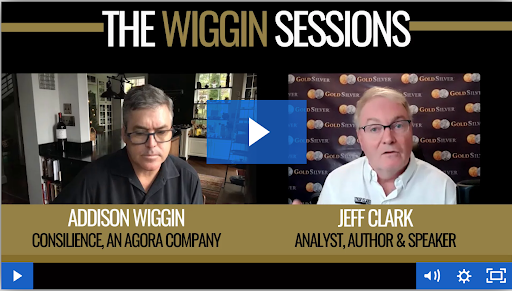 You can catch our full interview with Jeff Clark from Sept. 18, 2021, right here.
If you've been confused by gold's sideways moves in 2021, you need to hear what Jeff has to say. Just click on the picture above.
And look for our No. 7 Session of 2021 tomorrow.
Follow your bliss,
Addison Wiggin
Founder, The Financial Reserve