"When citizens would rather serve with their money than with their persons, the State is not far from its fall."

― Jean-Jacques Rousseau
Dear Reader,
Yesterday my car's gas tank was a little too close to "E" for comfort, so I planned to visit a station that's conveniently placed right off my exit ramp in Baltimore City.
But as I approached, I found that all the entrances were barricaded with construction barrels emblazoned with hand-drawn signs saying, "No Gas."
In all the years I've been commuting past the station, I can't recall the station ever running out of fuel. I don't want to speculate too spuriously, but I can't help but wonder if its plight is due to the global supply chain woes.
Whatever the case, it's not a stretch to say that the pandemic is causing some rethinking of how the world works. In fact, back in October, my guest Alec Ross explained why he believes we're on the verge of a whole new social contract.
But if we're not careful, the transition will be very messy.
"We are going to make decisions whether this decade concludes with us tilting more with the world looking either more like Star Trek or more like Mad Max," Alec told me.
Our conversation was the 9th-most downloaded Session of 2021.
Among the topics we discuss are the global minimum tax (GMT), which 140 countries signed off on — though exactly how it will affect you is still being worked out.
Alec also compares the Roaring 1920s to what he calls the Raging 2020s… offering a look at how this decade could play out.
And we discuss the role entrepreneurs will play in the future… long before Sen. Elizabeth Warren and Elon Musk started trading barbs online.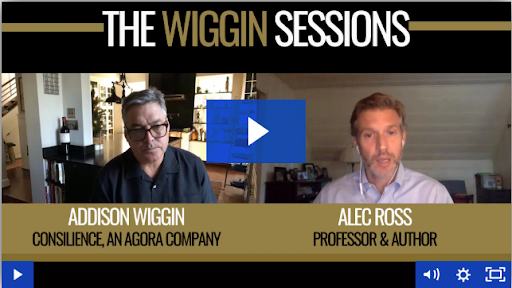 You can catch my full interview with Alec Ross from Oct. 30, 2021, right here.
Just click on the picture above to see the whole thing. And look for No. 8 in our countdown tomorrow.
Follow your bliss,
Addison Wiggin
Founder, The Financial Reserve