"A soothsayer bids you beware the Ides of March."
— Julius Caesar by William Shakespeare

Dear Reader,
We failed to acknowledge Pi Day yesterday… so we'll be damned if we'll let the Ides of March go by without comment.
While best known as the date of Julius Caesar's assasination, the Ides once represented the first full moon of the year under the ancient Roman lunar calendar. One tradition of the time was to dress an old man in animal skins, then taunt and beat him until he left the city — symbolically casting out the old year.
The Ides were also the day of the month that debts needed to be paid. Hmn. How can we get Congress to revive these ancient traditions and apply them to our own government?
No matter. It's already ominous enough that this year's Ides of March precede the next Federal Reserve meeting. The Fed's biggest client — the U.S. government — has borrowed so much money that it'll be a cold day in Hades before they do anything but roll that debt over.
Here's a more immediate question: Will Chairman Jerome Powell and his compatriots at the Fed dare to raise interest rates as expected? Increase the costs of borrowing money and shout "last call' on Wall Street's champagne and caviar fest? What about the paycheck-to-paycheck middle class who are dependent on the equity in the over-leveraged house to plan for retirement? Will they have to the cajones to smack them down too?
The over/under is they'll back down on hikes… and blame Russia. Heh.
For an idea of how bad things could get, look at Argentina — currently home to my friend and frequent Wiggin Session guest Joel Bowman.
During our latest conversation — which we've posted online today — Joel discusses the out-of-control inflation he's experiencing first-hand. While at a restaurant he ordered a bottle of wine off a digital menu… only to be told it would be 50% more expensive than the list price because they'd just updated the menus.
He also shares stories about the "black market" currency exchanges, where the locals are willing to pay a premium for U.S. dollars. As much as 200% more..
"Interestingly," he tells me, "they pay different rates for bills of different denominations." You might be surprised to learn which bills are worth the most. While the transactions are technically illegal, the government "appoints policemen to stand out in front of them to let foreigners know that they're safe."
Can't happen here in the U.S., right? Historically, that's correct. But then, at the turn of the 20th century there was a popular adage: "Rich as an Argentine." It lacks the same meaning after a hundred years of military juntas and mismanagement of the national scrip.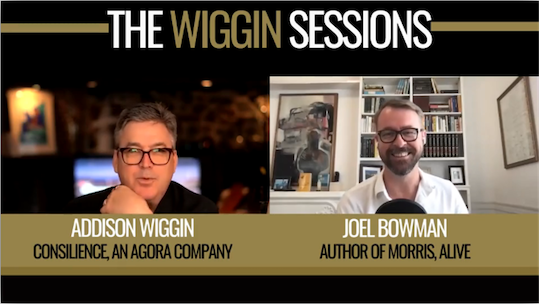 You can catch our full interview with Joel Bowman, right here.

In this Session, Joel and I also touch on the futility of trade sanctions… the potential demonization of cryptocurrencies… and the rise of weaponised money. 
As a bonus, the always gregarious gentleman shares a few anecdotes, insights and ideas from his journeys around the world, including bearing witness to a convoy of armored vehicles in the autonomous zone in Trinestria, Ukraine, with his 3-year old daughter in tow.
Just click on the photo above to see the whole thing. It's worth a listen.
Follow your bliss,
Addison Wiggin
Founder, The Wiggin Sessions
P.S. "When sanctions were first announced," reader David J. says, "and football clubs and sports stars were opining that all Russians should be persona non grata and the rest of the Western world were piling on Russia and on the Russian people in general.
"I asked myself: how do these actions and words differ from police racial profiling? I couldn't come up with a cogent reply other than that the West is going bigger and grander by profiling on an international scale."
"Perhaps Kanan or Addison can expound on my niggling little question to enlighten my ignorance."
Speaking for myself, I have a similar niggler: when the DEA or FBI catch drug dealers and criminals, then repossess their "ill-begotten" gains, why do they get to add the booty to their operating budgets?
We'll have to wait for Kanan's response.