"Empowerment of individuals is a key part of what makes open source work, since in the end, innovations tend to come from small groups, not from large, structured efforts."
— Tim O'Reilly
Dear Reader,
There is no shortage of problems in the world today… but the reprobates who are running things have become too detached from everyday people to offer any workable solutions.
My Session guest this week, Charles Hugh Smith, has penned a potential way out of this mess. It's called Global Crisis, National Renewal: A (Revolutionary) Grand Strategy for the United States.
Why the parentheses around the word "revolutionary"? "I didn't want to throw people off by thinking that I was calling for a Marxist-Leninist thing," Charles tells me.
Instead, he thinks the key is to start thinking small… where people work to make their community a better place and get rewarded for it. "What I'm proposing is… a global community that's almost like Linux," he says.
Linux is an open-source computer code, meaning anyone can use it however they see fit, within reason. "You've got to follow the rules if you're going to contribute to Linux," Charles says. But working within those rules has allowed for unprecedented levels of collaboration and innovation.
Charles says the world can work the same way. You'll learn more in today's Session.
Here's the leadup to our talk:
Super Sunday (For Advertisers)
Advertisers reportedly spent a record $6.5 million to hawk their goods for 30 seconds during Sunday's Super Bowl broadcast. Amid the usual beer and movie ads, we also watched celebrities tout electric cars… smart devices… and cryptocurrency wallets. Popular crypto site Coinbase paid to air nothing but a scannable QR code for 60 seconds. Curiously, the ad worked. The sudden influx of traffic overwhelmed the app. Maybe the company should have spent a little more time bolstering its servers before dangling a mystery in front of 117 million viewers. But Charles believes that kind of poor planning is by design. He recently posted an essay about U.S. consumerism on his blog, https://www.oftwominds.com.
It's not clear how Canadian Prime Minister Justin Trudeau and his cronies will use the extralegal tools to which they've given themselves access to earlier this week. In theory, they could order the army to clear the roads. For now, Deputy Prime Minister Chrystia Freeland has suggested the government can now freeze the bank accounts of anyone associated with the protests — without a court order. The truckers' automobile insurance could be suspended, too. Poor Mr. Trudeau… trying to enforce an unpopular mandate by threatening the livelihood and safety of the people who put him in the hot seat in the first place. His threats are inimical to the very people he's meant to lead.
Conservatives begin their analysis of "the facts" from the viewpoint of the individual. Freedom and liberty are paramount. The state is merely an instrument to ensure justice and a level economic playing field. So-called liberals (an Orwellian use of the word) believe the state comes first, to which the individual must conform. The facts in the case of Justin Trudeau and company bear this out. There is a pandemic. There are vaccines. The Trudeauglodites believe they have the state authority to make everyone in Canada get the jab. The truckers, on the other hand, believe they have the right to choose one way or the other.
Three From the Floor and a Fond Farewell
We took a break from economic theory on Thursday to give all y'all the floor. "I watched my first Wiggins Session a few days ago," writes Eric V., one of our correspondents, "where you interviewed Mark Moss." We'll let Mr. V. speak for himself: I am skeptical by nature, a contrarian at heart, and am rarely impressed by experts. Having spent 25 years as a trial lawyer, followed by 10 years as a small business owner of (at the time) a bleeding-edge technology, I can usually spot the BS from a distance. In this case, I was very impressed with Mark, with your interview technique…"
America Needs a New Grand Strategy
President Biden's 2023 budget proposal will give the military $770 billion — more money than has ever been allocated to our armed forces. It's far more than China and Russia spend on their militaries — combined. And what does the U.S. hope to achieve with that massive allocation? The country threw $2.3 trillion into Afghanistan with nothing to show for it. Such spending hasn't deterred China or Russia from threatening its neighbors… leaving aside whether or not the U.S. should even care.The politicos used to justify handing over large sums of cash to the U.S. Defense Department by claiming it was in support of a "Grand Strategy." During the Cold War we were told it was necessary to prevent the spread of communism. After 9/11, they said we needed a strong military to fight terrorism. It's not entirely clear what the "Grand Strategy" is today… but Charles Hugh Smith argues we need to hew a new one that focuses on the internals of the United States.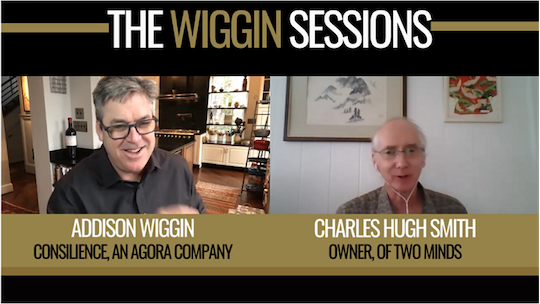 You can catch our full interview with Charles Hugh Smith, right here.
Charles has some very interesting ideas, as you'll see when you click the image above. You'll also find a link to the transcript at the bottom of the landing page.
And in response to several requests, we've added a scrollbar to the video. It lets you rewind our conversation or jump ahead. Enjoy.
Follow your bliss,
Addison Wiggin