"They always say time changes things, but you actually have to change them yourself."
— Andy Warhol
Dear Reader,
You'll notice something different about this week's Wiggin Session posts.
If you've ever clicked on the social media links at the end of our emails, you may know that you can find some of our previous Sessions on YouTube.
But starting this week, all new episodes will be posted there, too. So instead of sending you to an in-house landing page, we'll link you directly to our YouTube channel. Each episode page will also include a link to the transcript, too, so you can continue to read along if you prefer.
And don't let the episode numbers fool you, either. While we've filmed over 80 episodes, less than 50 have been posted to YouTube. To avoid confusing any new viewers on YouTube, we'll keep the numbering system we've established on the site.
The move to YouTube will help grow our audience — hopefully generating deeper feedback and opening doors to bigger interviews. In fact, since inviting the public to view the Wiggin Sessions, we've already lined up a small multitude of talks with writers and thinkers we wouldn't have thought of without stepping outside the wire.
You'll find our two latest sessions — with Joel Bowman, host of the Bonner's Private Research podcast, and Demetri Kofinas, host of the Hidden Forces podcast — below. Here lies this week's wind-up…
An Aussie by birth, Joel has racked up quite the collection of passport stamps. Today he's in Argentina, where he's witnessing out-of-control inflation — and increasing interest in cryptocurrencies — firsthand. Our conversation covers his thoughts on trade sanctions against Russia… the policies that led to Argentina's current state… and the potential for governments to continue weaponizing money. I reached out to Joel after reading his poetic take on mortality in the nation he's temporarily calling home.
In Roman times, the Ides were the day of the month that debts needed to be paid. Hmn. How can we get Congress to revive these ancient traditions and apply them to our own government? No matter. It's already ominous enough that this year's Ides of March preceded the Federal Reserve meeting. The Fed's biggest client — the U.S. government — has borrowed so much money that it'll be a cold day in Hades before they do anything but roll that debt over. Here's a more immediate question: What will happen now that Chairman Jerome Powell and his compatriots have increased the costs of borrowing money and shouted "last call" on Wall Street's champagne and caviar fest? What about the paycheck-to-paycheck middle class who are dependent on the equity in the over-leveraged house to plan for retirement? Whatever the outcome, we expect them to blame Russia.
The stage was set for higher energy prices long before Vladimir Putin's "peacekeepers" began streaming into Ukraine. In fact, our first Wiggin Session with Mark Moss back in November touched upon the "Not-So-Hidden Energy Crisis." Joel said much the same thing during our latest Session. "We were doing everything to hamper ourselves — and by ourselves I mean those in the West," he tells me, "long before Mr. Putin came along." He continues:
We've already seen very, very tight energy markets, both in the U.S. and in Europe as a result of many years of misguided policy seeking to wean the West off of its hydrocarbon based economy toward a kind of greener so-called renewable energies.
Basically, he says, "this is a deep trench that we've dug ourselves into." Energy is just the start of it, too.
The Federal Reserve raised interest rates explicitly to fight inflation. But it warned that its efforts might not be enough due to the ongoing war in Eastern Europe. And yet, In his first update for Countdown to Crisis, our Jim Rickards explained why people should be suspicious of current upward moves in the major indexes:
Since the Fed has misdiagnosed the disease, they are applying the wrong medicine. Tight money won't solve a supply shock. Higher prices will continue. But tight money will hurt consumers, increase savings and raise mortgage interest rates, which hurts housing.

The Fed's track record of using the wrong models, using flawed models and doing the wrong thing at the wrong time remains intact. Today's Fed announcement is the beginning of a chain of tightening that will sink stock markets and slow the economy.
Ironic, isn't it, that the Fed's deflections, misdirections and propaganda are having the desired effect on the media as U.S. policymakers continue to accuse Russia of manipulating the truth?
Are rising interest rates good or bad? The market seems to think they're good — the Dow was up nearly 5% this week. The S&P climbed 6% and the Nasdaq was downright giddy, levitating past 8%.
But if you're a speculator living on margin, have an adjustable rate mortgage or are a small business owner wearing out the chip on your credit card, you may think differently. Rising interest rates could put the kibosh on your future plans. According to the Fed's playbook, "slowly killing the economy" will ultimately save it.
Unless, of course, Russia's war in the Ukraine further impedes supply chains. Or the West's laundry list of sanctions force Russia to sell cheap oil and energy elsewhere, like China or Kazakhstan.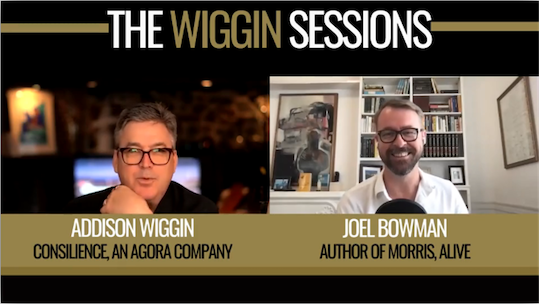 You can catch our full interview with Joel Bowman, right here.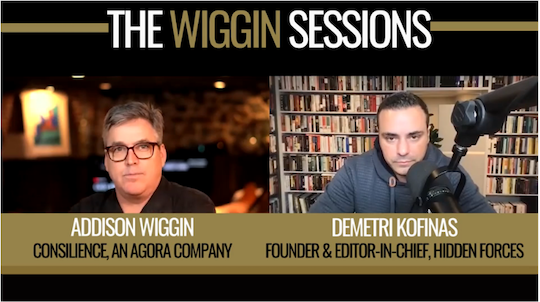 And see our chat with Demetri Kofinas, right here.
We hope you dig the new format. Enjoy the content. And if you do, be sure to "like" 'em and share them with your friends. If you know any writers… authors… podcasters… investing gurus… world travelers… wine merchants… uncouth or otherwise, let us know at WigginSessions@5minforecast.com. We'll put 'em on the list.
Follow your bliss,
Addison Wiggin
Founder, The Wiggin Sessions
P.S. On Monday, we sit down with Saifadean Ammous, author of the Bitcoin Standard: A Dencentralized Alternative to Central Banking. Saif's rousing romp through the history and evolution of money — and manifesto for the future of digital currencies — is an international bestseller and has been translated into over 30 languages.