"A new form of electronic cash minted by the central bank could 'directly and adversely impact the demand' for Circle's own, privately issued version…."
― The Washington Post
Dear Reader,
As far as we can tell, Joe Biden's State of the Union address last night was full of big promises but few specifics.
The president says his plans will cut the budget deficit, but not eliminate it. So he still expects Washinton to spend more than it brings in… which can only be accomplished by going deeper in debt. Today the debt is humming along at over $30 trillion. For some quick entertainment, check out the debt clock, live. The interest on the debt is particularly entertaining.
Of course, Biden also spent a lot of time explaining how the U.S. would continue to punish Russia for invading Ukraine. Curiously, he didn't mention cryptocurrencies… though that is frequently mentioned as a way for the belligerent nation to sidestep sanctions.
Federal Reserve Chairman Jerome Powell did bring up cryptos in his testimony before Congress today. He says Russia's actions underscore the need for more regulation of decentralized digital money.
Lawmakers also asked him about plans to turn the dollar into a cryptocurrency — a possibility we call the Fedcoin. Powell said the Fed is still looking into it but hasn't made any decisions yet.
Meanwhile, The Washington Post reported last week that the Boston Federal Reserve Bank has hired at least five former employees of Circle — a company that oversees a digital coin backed by U.S. dollars.
We've expressed some concern about world central banks issuing their own cryptocurrencies. But in this week's Wiggin Session, James Altucher tells me "it's actually an exciting thing."
For one thing, the government-backed cryptocurrencies will trade alongside other cryptos on the decentralized exchanges, giving them more legitimacy. "It'll make some of them very huge," he says.
It will also make international transactions faster and cheaper than they currently are. In fact, James recently told his readers to buy a crypto designed to automatically facilitate buying and selling things overseas.
"I could buy something in Japan and the transaction happens instantly because the yen would get converted into a digital yen," James explains. Then it's converted into the middleman currency, "which will then get converted into a digital dollar."
While it sounds complex, "all the transactions happen instantly at very low fees." It beats the current system because "you're not going through all these wiring systems."
James even welcomes all the talk of crackdowns and regulation in the crypto-space, especially on Bitcoin.
"Hopefully they will say they want to regulate the use of crypto and crimes," he tells me, "and they'll build a crypto crime agency or whatever." It would be good because it would mean "it's being acknowledged like a real currency."
Of course, the government could go the way of China and declare cryptos illegal. But, James says, it wouldn't change anything. "You can't control the flood of crypto that's out there."
He foresees a day when our paper dollars and metal coins become the kitsch of a bygone era. We'll spend the rest of the week sharing James' thoughts on the best ways to be ready for that day.
Follow your bliss,
Addison Wiggin
Founder, The Financial Reserve
P.S. As you'll learn, James isn't a big fan of Bitcoin. "I'm skeptical, to be honest," he tells me.
If you want to know what cryptos he is interested in right now, I urge you to check out the special presentation he's put together. You'll also learn how to get his ground-breaking Big Book of Crypto for free.
P.P.S. I only caught some of Biden's address live, but I've been reading various highlights and analysis today. So far my favorite headlines have been the ones accusing Representatives Lauren Boebert and Majorie Taylor Green of "heckling" the president — as if he were a stand-up comedian trying to get through a set.
The description doesn't seem far off…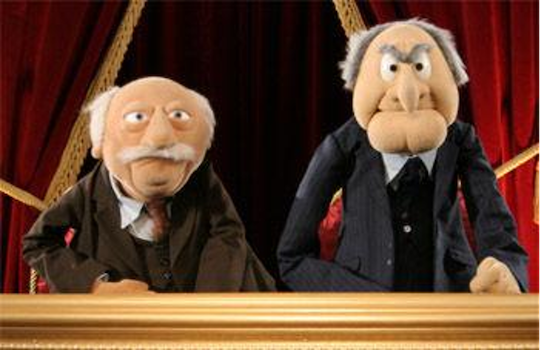 Next year, put these guys in the gallery. That would hold our attention longer. (Image source: Wikipedia.)
P.S. de resistance: There were no new recommendations today.