"The list is the origin of culture. It's part of the history of art and literature. What does culture want? To make infinity comprehensible. It also wants to create order."
― Umberto Eco
Dear Reader,
You may have noticed a lot of "best of" and "year in review" articles popping up online and in your inbox. Who are we to buck the trend?
These articles are a great way to get a grasp on wtf happened in the past 12 months… as well as allow media companies to repackage content in advance, giving their employees a chance to take some time off for the holidays.
We're going to do the same thing over the next two weeks — counting down the 10 most downloaded Sessions of 2021. But don't think of them as holiday reruns… because much of what my guests had to say can still help you prepare for what's ahead.
Take the man who grabs our #10 spot, Byron King, the Harvard-trained geologist and former military man.
Back in August, we talked about how U.S. politicians would cave on extending the country's debt ceiling. Not only did Congress pass a short-term borrowing limit in October, but it also just voted to allow the country to take on $2.5 trillion of new debt.
The unfettered cash will undoubtedly feed inflation — another topic Byron and I tackle. "This isn't going to go away anytime soon," he told me… long before the Fed dropped "transitory" from its vocabulary.
Byron and I also discussed America's waning military might — mere weeks before the U.S. withdrawal from Afghanistan.
And we talked about the impending infrastructure bill… including the opportunity hidden deep within its 2,700 pages. Now that Congress can take out all the loans it needs, you'll want to be in position before the $1.2 trillion starts winding its way through the conversation.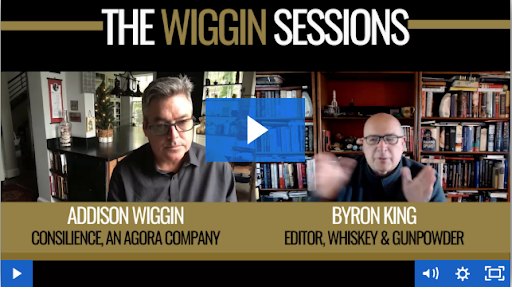 Byron King, from Aug. 7, 2021, right here.

You can hear my full conversation with Mr. King by clicking the picture above.
Tune in tomorrow to find out who our ninth-most downloaded guest was.
Follow your bliss,
Addison Wiggin
Founder, The Financial Reserve